Dorestad Raid 2022
Two Henley-on-Thames "lockdown" boats took part in the Dorestad Raid in the Overijssel region of the Netherlands from 7th to 11th September.
After two years' break due to Covid we were looking forward to joining old friends at last – we had all sailed the Raid before, but this time we were bringing our "new" boats, Steve's Goat Island Skiff "Heidrun" and Paul and Robin's Morbic-12 "Proteus", home-built in 2020 with the intention of joining the Raid in September of that year, but as we know events conspired against us!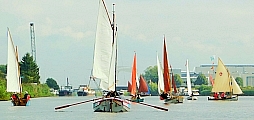 A few of the 2022 Dorestad fleet (Heidrun to left, Proteus to right)
CLICK any image to enlarge
What's a Raid? - Quite simply a sail-and-oar touring event for small boats. In the case of this one it tours with an accommodation barge "In Dubio" which provides meals for all and beds for some – quite a few Raiders like to sleep on their boats as part of the experience.
Wednesday - Launching was organised in the historic Hanseatic town of Hattem and after getting on the water we enjoyed a late lunch and some sightseeing before moving our trailers to the eventual recovery site in Vollenhove, a half-hour drive away, and returning by minibus for a sociable meal and a catch-up chat with our Dutch friends. They are very welcoming and most speak good English – just as well given that only Steve spoke a little Nederlands, and that very rusty.
There were 26 boats in all with generally 1- and 2-person crews, ranging in size from small sailing canoes through dinghies up to Drascombe luggers, including three UK boats, two French and one Swiss, so a truly international crowd.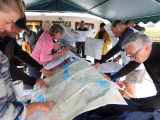 "Palaver" (Briefing) under the gazebo on deck.
Thursday - The morning started very wet, as forecast, and the 'palaver' (briefing) was held under a gazebo on deck. The route was to be a sail down the river IJssel, turning off into a newly-restored waterway the Rievediep, a distance of 12 nautical miles - but with some tacking involved it was somewhat further on the water. After a hearty breakfast we donned our waterproofs, gathered our self-packed lunches and set off to make the most of the day, looking forward to the improved forecast that afternoon.
After turning off the IJssel we found the fleet pulled up on a beach to enjoy lunch, the rain having stopped – another opportunity for social chat and admiring the variety of boats. Then on through a lock and under several bridges. One of the features of the Dorestad Raid is the routing through lakes, rivers and canals with several bridges each day – some of which open but many of which do not, meaning lowering sails and sections of mast-down rowing for all but the smallest boats.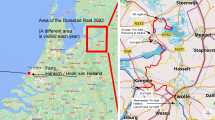 Map of Dorestad 2022 - Click for full size.
Our day ended at "In Dubio" which had motored to the new mooring while we sailed, tying up along a long landing stage and climbing onto the barge for a shower, dinner and more social chat.
That's the pattern of Raid days – the scenery and the weather change, but we always begin and end on the barge. Mooring is sometimes on the land but more often we raft up to the barge in some quiet spot. The drone shot gives an impression of the scene as the fleet moors alongside In Dubio in a peaceful rural lake later in the raid.


Drone picture of the fleet gathered around the "mothership" for the night.
InDubio anchored in the middle of a lake.
Friday was more gusty, leading to a capsize in the early afternoon for Heidrun, but having practised at Reading and prepared the boat (and ourselves) the recovery went smoothly and we were soon dried off and in our spare clothing to continue sailing. This was Heidrun sailing later that day in the channel at Zwaarte Meer, avoiding the 'ondiep' (shallows).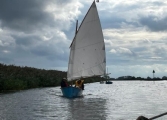 "Heidrun" in the Zwartermeer
Saturday was a kinder day for sailing with a decent breeze but again bridges to negotiate. Here is Proteus on the left with other boats waiting for a bridge to open. The keen eyed among you will spot Bubbels, a Mirror dinghy with red sails – you don't need a big boat to take part but you do need to row occasionally. That bridge did open after a few minutes and we all sailed through.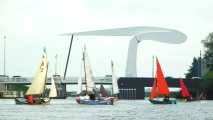 Several of the fleet tackoing back and forth while waiting for the bridge to open - "Proteus " to left.
Saturday night is traditionally entertainment night: raiders sing songs, read poems or tell jokes and there are awards to give out. 'Pride of the Fleet' went to a lovely traditional new-build boat by French raider Emmanuel Conrath and both Proteus and Heidrun were given first-time-on-the-raid trophies. Everyone stayed up late chatting and reminiscing about the days so far.


Misty morning alongside In Dubio
Then finally Sunday morning – time to head to the recovery slipway, after a slightly later than usual breakfast. The day started misty and still, in a quiet rural spot on the canal. With little prospect for wind we prepared for a steady row. A few optimistic sailors persevered with wind-powered progress, but rowing was a good deal faster and most of us preferred to row.
And eventually onto the trailers – a very well organised team effort – and preparing for the drive back to Hoek van Holland and the ferry back to Harwich. Another excellent event, lovely peaceful scenery and very good company. If you're interested in finding out about next year's event speak to one of us, we'd be happy to introduce you to the Raid and it is a fabulous sailing opportunity, somewhat different to racing and general club sailing.
Steve, Paul & Robin . - Contact
Images - Full resolution available on request
A 3-minute video by Koos Winnips* encapsulates the spirit of the event. *(Organiser of "Raid Extreme")
More images and video > here <